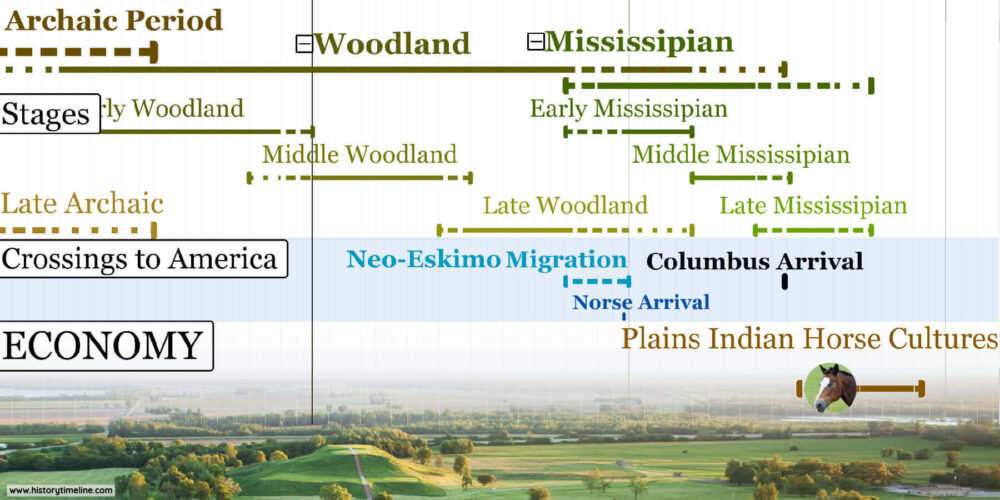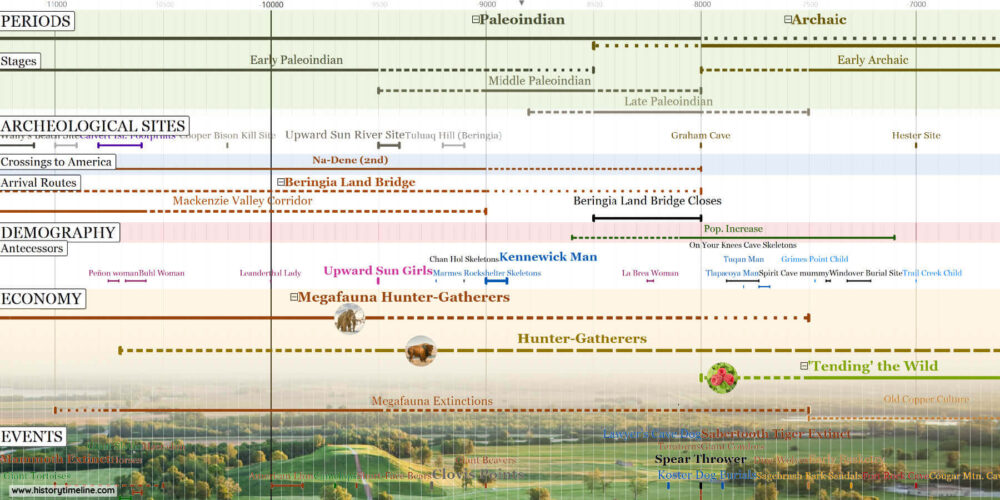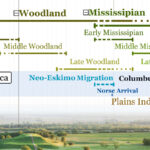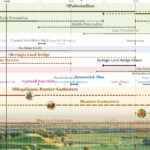 North American Prehistory Timeline (30k BCE-1492)
Timeline of North American prehistory, from early Paleoindian sites in Alaska to Late Mississippian agricultural societies in the south (30000 BCE to 1492 AD).
  DOWNLOAD
Open & browse usign Timeline Software.

Description
File Links
Additional information
Feature Requests (0)
Description
This timeline displays events in pre-Columbian North America. North America's prehistory started with migrations of Siberian Upper-Palaeolithic groups into Alaska. The timeline describes these early arrivals and the fast population of the continent. Later arrivals to North America, such as the Eskimo and Na-Dene migrations are included as well. Also, the late Norse and the Columbus arrivals.
This pre-Columbian timeline first displays archaeological periods in North America. Then it displays over 50 archaeological sites all over the continent and 25 fossil remains of early inhabitants. The timeline also includes demographic trends in North America that help us understand the dynamics of early populations.
The timeline shows the evolution of hunting cultures, such as the Clovis Point culture. It also shows the evolution of agricultural cultures, such as the urban Pueblo culture and the Mount-building culture that characterizes the South-eastern Agricultural Complex.
This North American Prehistory timeline shows over 250 events in total, including climate, volcanic events, animal extinctions, and many archaeological finds. Over the years, archaeologists have unearthed pre-Columbian tools, pottery, art pieces and remains of plant cultivation that explain the evolution of hunting cultures and the emergence of agricultural societies previous to Columbus's arrival.
The timeline provides links to access articles in Encyclopedia Britannica, Wikipedia, World History Encyclopadia and History.com.
American History Timelines
This timeline is the first in a series of three which cover the whole history of North America.
North American Prehistory (30000 BCE – 1492)
For each event, links are provided to access online articles, primary sources and related history timelines.
Online Articles
Primary Sources

Linked Timelines

Additional information
| | |
| --- | --- |
| Size | |
| Access | Premium Timelines |
Browse Timelines With Timeline Sofware